ZYTEL® is Celanese's registered trademark for its comprehensive range of nylon resins. Since the invention of nylon by Celanese in the 1930s, it has become the most widely used of all engineering polymers. Due to their excellent balance of properties, nylon components (produced by injection moulding, extrusion or blow moulding) find extensive use in many applications including: automotive, electrical/electronic, domestic appliances, furniture and construction.
Products and properties ZYTEL® nylon resins are classified by chemical compositon into the following groups:
– Nylon 66
– Nylon 6
– Nylon 66/6 blends
– Nylon 612
– Transparent amorphous nylon
– Semi-aromatic High Temperature Nylon.
The key features of ZYTEL® nylons are:
– High mechanical strength
– Excellent balance of stiffness/toughness
– Good high temperature performance
– Good electrical and flammability properties
– Good abrasion and chemical resistance.
Properties such as melting point, moisture absorption and modulus of elasticity are primarily determined by the type of nylon. In addition, nylons can be readily modified and reinforced, To create a wide range of products with tailored properties for specific processes and end-uses. Major "families" of ZYTEL® nylons described in this Website include:
– Unreinforced
– Tough/Supertough
– Glass reinforced
– Toughened/glass reinforced
– Flame retardant
– High viscosity/Extrusion
– Speciality
– High Temperature Nylon.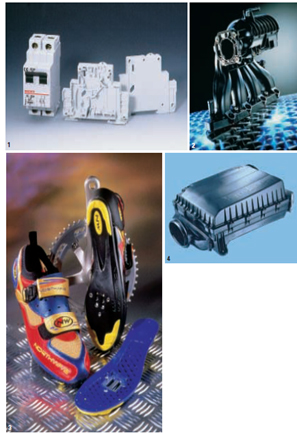 | Grade name | Polymer Types | Density (g/cm3) | T.S (MPa) Break ISO 527 or ASTM D638 | T.S (MPa) Yield ISO 527 or ASTM D638 | T.M.(MPa)(5) ISO 527 | N.C.I.(KJ/m2)(8) ISO 179 | H.D.T.(°C)(9) 0.45 MPa | H.D.T.(°C)(10) 1.82 MPa | Color | Physical Form : Beads, Pellets, Powder, Flakes | Product Description |
| --- | --- | --- | --- | --- | --- | --- | --- | --- | --- | --- | --- |
| ZYTEL 101 F BKB 009 | PA 66 | 1.14 | | 82 | 3100 | 5.5 | 195 | 70 | Black | Pellets | Fast molding, lubricated PA66 |
| ZYTEL 101 F NC 010 (USA) | PA 66 | 1.14 | | 82 | 3100 | 6 | 200 | 70 | Natural | Pellets | Fast molding, lubricated PA66 |
| ZYTEL 101 L BKB 080 | PA 66 | 1.14 | | 82 | 3100 | 5.5 | 200 | 70 | Black | Pellets | Lubricated PA66, injection molding grade |
| ZYTEL 101 L NC 010 | PA 66 | 1.14 | | 82 | 3100 | 5.5 | 200 | 70 | Natural | Pellets | Lubricated PA66, injection molding grade |
| ZYTEL 103 FHS BKB 009 | PA 66 | 1.14 | | 85 | 3100 | 5 | 195 | 70 | Black | Pellets | Heat stabilized, internally lubricated polyamide 66 |
| ZYTEL 103 FHS NC 010 | PA 66 | 1.14 | | 85 | 3100 | 5 | 195 | 70 | Natural | Pellets | Heat stabilized, internally lubricated polyamide 66 |
| ZYTEL 103 HSL BKB 080 | PA 66 | 1.14 | | 85 | 3100 | 5.5 | 200 | 70 | Black | Pellets | Heat stabilized, lubricated PA66 |
| ZYTEL 103 HSL NC 010 | PA 66 | 1.14 | | 85 | 3100 | 5.5 | 200 | 70 | Natural | Pellets | Heat stabilized, lubricated PA66 |
| ZYTEL 105 F BK 010 | PA 66 | 1.14 | | 85 | 3200 | 6 | 205 | 70 | Black | Pellets | Lubricated UV resistant PA66 (Black) |
| ZYTEL 151 L NC 010 | PA 6/12,OTHERS | 1.06 | | 62 | 2400 | 3.5 | 135 | 62 | Natural | Pellets | Lubricated PA 612 resin |
| ZYTEL 158 L NC 010 | PA 6/12,OTHERS | 1.06 | | 62 | 2400 | 4 | 135 | 62 | Natural | Pellets | Intermediate viscosity, lubricated PA 612 resin that is suitable for molding and extrusion applications |
| ZYTEL 408 HS NC 010 | PA 66 | 1.1 | | 62 | 2280 | 16.8 | 171 | 63 | Natural | Pellets | Heat stabilized, modified nylon 66 |
| ZYTEL 444 AHS BK 152 | PA 66 | 1.11 | | 62 | 2400 | | | 65 | Black | Pellets | Toughened, heat stabilized, black PA 66 resin for injection molding. It is a high flow |
| ZYTEL 70 G 13 HS 1 L BK 031 | PA 66 | 1.23 | | 120 | 5500 | 5 | 258 | 238 | Black | Pellets | 13% glass reinforced, heat stabilized PA 66 |
| ZYTEL 70 G 13 L NC 010 | PA 66 | 1.23 | | 120 | 5500 | 5 | 258 | 238 | Natural | Pellets | 13% glass reinforced, lubricated PA66 |
| ZYTEL 70 G 30 HSLR BK 099 | PA 66 | 1.37 | | 195 | 10000 | 13 | 261 | 253 | Black | Pellets | 30% glass reinforced, heat stabilized, lubricated and hydrolysis resistant PA66 |
| ZYTEL 70 G 30 HSLR NC 010 | PA 66 | 1.37 | | 195 | 10000 | 13 | 261 | 253 | Natural | Pellets | 30% glass reinforced, heat stabilized, lubricated and hydrolysis resistant PA66 |
| ZYTEL 70 G 33 HS 1 L BK 031 | PA 66 | 1.39 | | 200 | 10500 | 13 | 261 | 252 | Black | Pellets | 33% glass reinforced, heat stabilized, lubricated PA66 |
| ZYTEL 70 G 33 HS 1 L NC 010 | PA 66 | 1.39 | | 200 | 10500 | 13 | 261 | 252 | Natural | Pellets | 33% glass reinforced, heat stabilized, lubricated PA66 |
| ZYTEL 70 G 33 L BK 031 | PA 66 | 1.39 | | 200 | 10500 | 13 | 261 | 252 | Black | Pellets | 33% glass reinforced, lubricated PA66 |
| ZYTEL 70 G 33 L NC 010 | PA 66 | 1.39 | | 200 | 10500 | 13 | 261 | 252 | Natural | Pellets | 33% glass reinforced, lubricated PA66 |
| ZYTEL 70 G 43 L BK 031 | PA 66 | 1.49 | | 207 | 13800 | 15 | 260 | 252 | Black | Pellets | 43% glass reinforced, lubricated PA66 |
| ZYTEL 70 G 43 L NC 010 | PA 66 | 1.49 | | 207 | 13800 | 15 | 260 | 252 | Natural | Pellets | 43% glass reinforced, lubricated PA66 |
| ZYTEL 70 G 50 HSLA BK 039 B | PA 66 | 1.57 | | 245 | 16800 | 16 | | 253 | Black | Pellets | 50% glass reinforced heat stabilised PA66 |
| ZYTEL 73 G 15 L NC 010 | PA 6 | 1.23 | | 135 | 6000 | 7 | 220 | 200 | Natural | Pellets | 15% glass reinforced, lubricated PA6 |
| ZYTEL 73 G 30 HSL BK 416 | PA 6 | 1.36 | | 185 | 9700 | 16 | 220 | 210 | Black | Pellets | 30% glass fiber reinforced, heat stabilized PA 6 |
| ZYTEL 73 G 30 HSL NC 010 | PA 6 | 1.36 | | 185 | 9700 | 16 | 220 | 210 | Natural | Pellets | 30% glass fiber reinforced, heat stabilized PA 6 |
| ZYTEL 73 G 30 L BK 031 | PA 6 | 1.36 | | 185 | 9800 | 16 | 220 | 210 | Black | Pellets | 30% glass reinforced, lubricated PA6 |
| ZYTEL 73 G 30 L NC 010 Datasheet | PA 6 | 1.36 | | 185 | 9800 | 16 | 220 | 210 | Natural | Pellets | 30% glass reinforced, lubricated PA6 |
| ZYTEL 73 G 35 HSL BK 262 Datasheet | PA 6 | 1.41 | | 190 | 11000 | 16 | | 208 | Black | Pellets | 35% glass fiber reinforced, heat stabilized PA 6 |
| ZYTEL 73 G 45 L NC 010 Datasheet | PA 6 | 1.51 | | 230 | 14500 | 20 | 221 | 213 | Natural | Pellets | 45% glass reinforced, lubricated PA6 |
| ZYTEL 7331 J NC (PA 6) | PA 6 | 1.13 | | 80 | 2900 | 5 | 155 | 60 | Natural | Pellets | Unreinforced, lubricated, fast cycling, PA6 |
| ZYTEL 74 G 33 J BK 031 | PA 6/66 | 1.39 | | 184 | 9300 | 13.5 | 250 | 225 | Black | Pellets | Nylon 66 and nylon 6 co-melt reinforced with 33 % glass reinforced |
| ZYTEL 74 G 33 J NC 010 Datasheet | PA 6/66 | 1.39 | | 184 | 9300 | 13.5 | 250 | 225 | Natural | Pellets | Nylon 66 and nylon 6 co-melt reinforced with 33 % glass reinforced |
| ZYTEL 74 G 33 W BK 196 Datasheet | PA 6/66 | 1.39 | | 185 | 10000 | 12 | | 225 | Black | Pellets | High gloss automotive weatherable black 33% glass reinforced nylon 66 |
| ZYTEL 74 G 43 J NC 010 | PA 6/66 | 1.5 | | 203 | 13300 | 17 | | 235 | Natural | Pellets | Nylon 66 and nylon 6 co-melt reinforced with 43 % glass reinforced |
| ZYTEL 75 LG 40 L NC 010 | PA 66 | 1.47 | | 240 | 12500 | 40 | | 260 | Natural | Pellets | 40% long glass reinforced, lubricated polyamide 66 |
| ZYTEL 77 G 33 L BK 031 Datasheet | PA 6/12,OTHERS | 1.32 | | 168 | 9500 | 13 | 216 | 200 | Black | Pellets | 33% glass reinforced, lubricated PA612 |
| ZYTEL 77 G 33 L NC 010 Datasheet | PA 6/12,OTHERS | 1.32 | | 168 | 9500 | 13 | 216 | 200 | Natural | Pellets | 33% glass reinforced, lubricated PA612 |
| ZYTEL 80 G 25 HS BK 117 Datasheet | PA 66 | 1.26 | | 110 | 700 | 23 | 258 | 240 | Black | Pellets | 25% Glass Reinforced, Supertoughened Nylon 66 with outstanding impact resistance |
| ZYTEL 80 G 33 HS 1 L BK 104 Datasheet | PA 66 | 1.33 | | 148 | 8800 | 20 | 261 | 245 | Black | Pellets | 33% glass reinforced, heat stabilized PA 66 with outstanding impact resistance |
| ZYTEL FE 15001 BK 032 N | PA 66 | 1.37 | | 190 | 10650 | 11.4 | | 255 | Black | Pellets | 33% glass fiber reinforced, heat stabilized, black polyamide 612 |
| ZYTEL FE 5382 BK 276 Datasheet | PA 6/12,OTHERS | 1.32 | | 170 | 9800 | 12 | | 200 | Black | Pellets | 33% glass fiber reinforced, heat stabilized, black polyamide 612 |
| ZYTEL FE-5105 BK 083 K | PA 66 | 1.39 | | 192 | 10500 | 10 | 260 | 249 | Black | Pellets | 33% glass reinforced, heat stabilized PA66 |
| ZYTEL FR 15 NC 010 | PA 66 | | | | | | | | Natural | Pellets | Flame retardant PA 66 resin that meets the requirements of UL94V-0 |
| ZYTEL FR 50 BK 505 | PA 66 | 1.6 | | 158 | 10640 | 8.4 | | 242 | Black | Pellets | 25% glass reinforced PA66, UL94-V0 rating |
| ZYTEL FR 50 NC 010 | PA 66 | 1.61 | | 177 | 10200 | 10.8 | | 239 | Natural | Pellets | 25% glass reinforced PA66, UL94-V0 rating |
| ZYTEL FR 70 M 30 V0 BK 010 Datasheet | PA 66 | 1.62 | | 65 | 6200 | 2.5 | | 145 | Black | Pellets | 30% mineral reinforced PA66, UL94-V0 rating |
| ZYTEL FR 7025 V 0 F BK 001 | PA 66 | 1.15 | | 80 | 3750 | 3.7 | 230 | 70 | Black | Pellets | Unreinforced PA66, UL94-V0 rated |
| ZYTEL FR 7025 V 0 F NC 010 Datasheet | PA 66 | 1.15 | | 80 | 3750 | 3.7 | 230 | 70 | Natural | Pellets | Unreinforced PA66, UL94-V0 rated |
| ZYTEL HTN 51 G 35 HSL BK 083 Datasheet | PA 6/12,OTHERS | 1.47 | | 211 | 12000 | 10 | 284 | 264 | Black | Pellets | 35% glass reinforced, heat stabilized, lubricated high performance polyamide resin |
| ZYTEL HTN 51 G 35 HSL NC 010 Datasheet | PA 6/12,OTHERS | 1.47 | | 211 | 12000 | 11 | 284 | 264 | Natural | Pellets | 35% glass reinforced, heat stabilized, lubricated high performance polyamide resin |
| ZYTEL HTN 53 G 50 HSLR HF BK 083 | PA 6/12,OTHERS | 1.6 | | 250 | 17300 | 15 | 254 | 236 | Black | Pellets | 50% Glass reinforced high performance polyamide resin with improved flow and excellent surface appearance using water-heated molds |
| ZYTEL HTN 53 G 50 HSLR HF BK 503 | PA 6/12,OTHERS | 1.6 | | 250 | 17300 | 15 | 254 | 236 | Black | Pellets | 50% Glass reinforced high performance polyamide resin with improved flow and excellent surface appearance using water-heated molds |
| ZYTEL HTN 54 G 35 HSLR BK 031 Datasheet | PA 6/12,OTHERS | 1.42 | | 180 | 10500 | 12 | 283 | 255 | Black | Pellets | 35% Glass reinforced, heat stabilized, lubricated, toughened, hydrolysis resistant high performance polyamide resin. PPA resin |
| ZYTEL HTN 54 G 35 HSLR NC 010 Datasheet | PA 6/12,OTHERS | 1.42 | | 180 | 10000 | 12 | 285 | 255 | Natural | Pellets | 35% Glass reinforced, heat stabilized, lubricated, toughened, hydrolysis resistant high performance polyamide resin. PPA resin |
| ZYTEL HTN FE 16502 BK 001 | PA 6/12,OTHERS | 1.56 | 145 | | 12600 | | | 250 | Black | Pellets | 40% mineral reinforced, lubricated high performance polyamide, PPA resin |
| ZYTEL HTN FE 250020 NC 010 | PA 6/12,OTHERS | 1.4 | | 98 | 4700 | 5 | | 143 | Natural | Pellets | 30% mineral reinforced, toughened high performance polyamide, PPA resin |
| ZYTEL HTN FE 350015 NC 010 | PA 6/12,OTHERS | 1.48 | | 73 | | 8.8 | | 141 | Natural | Pellets | 30% glass reinforced, flame retardant, lubricated high performance polyamide |
| ZYTEL HTN FR 52 G 30 NH BK 337 Datasheet | PA 6/12,OTHERS | 1.44 | | 150 | 10000 | 8 | | 285 | Black | Pellets | 30% glass reinforced, flame retardant, lubricated high performance. PPA resin polyamide |
| ZYTEL MT 409 AHS BK 010 Datasheet | PA 66 | 1.11 | | 62 | 2500 | 21 | 205 | 66 | Black | Pellets | Medium Toughened, high performance, heat stabilized PA 66 resin having good stiffness and improved knit line strength with superior toughness and processability |
| ZYTEL MT 409 AHS NC 010 Datasheet | PA 66 | 1.11 | | 62 | 2500 | 21 | 205 | 66 | Natural | Pellets | Medium Toughened, high performance, heat stabilized PA 66 resin having good stiffness and improved knit line strength with superior toughness and processability |
| ZYTEL RESIN 408 HS BK 009 | PA 66 | 1.11 | | 62 | 2280 | 16.8 | 171 | 63 | Black | Pellets | Heat stabilized, modified nylon 66 |
| ZYTEL RESIN ST 801 HS NC 010 | PA 66 | 1.08 | | 51.7 | | | 216 | 71 | Natural | Pellets | Heat stabilized Super Tough polyamide 66 |
| ZYTEL ST 801 A NC 010 A Datasheet | PA 66 | 1.07 | | 48 | 2000 | | 157 | 63 | Natural | Pellets | Super Tough, high performance, UV stabilized, PA 66 resin for indirect sunlight exposure |
| ZYTEL ST 801 AHS BK 010 Datasheet | PA 66 | 1.09 | | 47 | 1800 | 76 | 147 | 61 | Black | Pellets | Super Tough, high performance PA 66 |
| ZYTEL ST 801 AW BK 195 Datasheet | PA 66 | 1.09 | | 47 | 1900 | 79 | 162 | 62 | Black | Pellets | Super Tough, weatherable, easy flow and processing friendly, black PA 66 |
| ZYTEL ST 801 BK | PA 66 | 1.08 | | 50 | 2000 | 80 | 132 | 64 | Black | Pellets | Supertough PA66 |
| ZYTEL ST 801 NC | PA 66 | 1.08 | | 50 | 2000 | 80 | 132 | 64 | Natural | Pellets | Supertough PA66 |
| ZYTEL ST 811 HS BK 038 | PA 6 | 1.04 | | 31 | 900 | 71 | 170 | 47 | Black | Pellets | Rubber modified nylon 6 resin. Very flexible |
| ZYTEL ST 811 HS NC | PA 6 | 1.04 | | 31 | 900 | 71 | 170 | 47 | Natural | Pellets | Rubber modified nylon 6 resin. Very flexible |
| ZYTEL 70 G 35 HSLRA 4 BK 267 Datasheet | PA 66 | 1.41 | | 205 | 11300 | 14 | | 250 | Black | Pellets | 35% glass fiber reinforced, heat stabilized, hydrolysis resistant PA 66 |
| ZYTEL 70 GB 40 HSL BK 351 | PA 66 | 1.46 | | 90 | 5400 | 30 | 230 | 220 | Black | Pellets | 40% glass bead reinforced heat stabilised, lubricated PA66 |